Upcoming shows
Ballet-fairy tale in 2 acts
Beginning: 29.12.2021 - 19:00
Completion: 21:00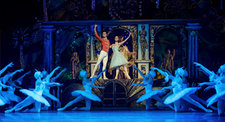 Libretto by M. Petipa based on the fairy tale of the same name by E. Hoffmann.

The premiere of this edition of the ballet on the Kyiv stage
took place on December 30, 1986.
Students and attendees of the College of Choreographic Art
"Kyiv Municipal Dance Academy named after Serge Lifar"
take part in the New Year's performances.
Directors who lead the performance:
ACT ONE
Guests are gathering for the New Year's party in the Stahlbaum family. Children are looking forward to when the tree will light up with multi-colored lights. The wizard enters. He prepared a gift for the children - a puppet show. Columbine, Harlequin, and the saracens dance. The guests are delighted. The magician takes off his mask and everyone sees that it is Drosselmeyer - Clara's godfather. Clara and Fritz, the Stahlbaum children, beg to be given the dolls, but they have already been carried off. Drosselmeyer, trying to calm the little ones, gives them the Nutcracker. Fritz takes the doll away from Clara and inadvertently breaks it. Clara picks up the disfigured Nutcracker from the floor and puts him to bed.
The ball ends, the guests leave.
****
Night. The room where the Christmas tree stands seems mysterious, enchanted. In a chair sleeps Clara, who is tired from the excitement. At the behest of the wizard Drosselmeyer, mice begin to appear from all the crevices led by their King. Clara goes to the Christmas tree to protect the Nutcracker. The Christmas tree starts to grow to an enormous size. Everything around is changing. Suddenly, the mice and their King appear again. The Tin Soldier raises the alarm. The brave Nutcracker boldly leads the army. The battle begins. But the forces are not equal. The Nutcracker is left alone. Clara, seeing that her darling is in danger, takes a slipper and, with all her might, throws it at the King of mice. Frightened mice scatter. Only one Nutcracker remains lying on the floor. Clara runs up to him. And then a miracle happens: the ugly doll turns into a handsome prince. He looks at Clara with delight. The room turns into a winter forest. Light snowflakes whirl in a magical dance. Clara and the Prince are drawn to each other, like a magical dream, by a star twinkling on the Christmas tree. They get into a fabulous boat and embark on a magical journey.
ACT TWO
Clara and the Prince's romantic journey through the fairytale land is interrupted by the arrival of mice. The Nutcracker Prince bravely goes into battle and wins.
****
Clara and the Prince enter the kingdom of the dolls. The Prince tells everyone about his adventures, about how Clara saved him. The dolls celebrate her noble deed. In honor of Clara and the Prince in the kingdom of the dolls, a big celebration is being held.
****
Morning. New Year's Eve is over, and with it the fabulous magic and Clara's wonderful dream have dissipated. Waking up, she gently hugs her beloved doll.