Upcoming shows
Beginning: 12.04.2019 - 19:00
Completion: 21:00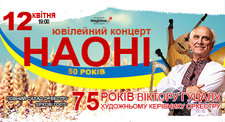 The information is given by the press service of NAOFI
The concert devoted to 2 holiday dates will take place in Kyiv on the 12th of April.
The favourite orchestra of Ukrainians – NAOFI (Ukrainian National Academic Orchestra of Folk Instruments) is celebrating its 50th anniversary.
And Viktok Gutsal, artistic leader of NAOFI is also celebrating his 75th anniversary.
NAOFI – the orchestra with the ukrainian soul, has impessed the audience with its virtuosity and artistry for almost half of a century.
The unusual sound of the orchestra is created by the company of Ukrainian national instruments: sopilka players, bandura players, "zozulka" players.
NAOFI participated lots of music festivals and concerts.
More than 5000 concerts were played all over the world.
Eurovision song contest was opened brightly by NAOFI in 2017.
75 years' anniversary is celebrating the permanent leader of NAOFI – Viktor Gutsal.
Viktor Gutsal is a national artist of Ukraine, the laureate of the National premium named by Taras Shevchenko and has been the leader of NAOFI for 35 years.
Let's celebrate this holiday together in National opera!
The information is given by the press service of NAOFI