Upcoming shows
Premiere
Music drama in three acts
Concert Version
Beginning: 15.09.2021 - 18:00
Completion: 23:00
Sung in German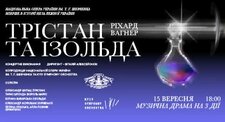 A real feast for music lovers!
For the first time in the history of independent Ukraine, one of the most difficult to perform, and, at the same time, one of the most magnificent masterpieces ever created in the history of opera – 'Tristan und Isolde' by Richard Wagner.
The concert version of the opera will be performed at 18:00 on September 15 on the stage of the National Opera of Ukraine, which organizes the event along with the Kyiv Symphony Orchestra.
The involvement of renowned Ukrainian vocalists and Ukrainian orchestra, which is a remarkable testament of Ukraine's opera potential, as well as participation of Belarusian conductor Vitali Alekseenok, who is closely associated with Ukraine thanks to a number of successful creative projects here, are the distinctive features of this project.
Kyiv Symphony Orchestra is a national ensemble with a 40-years history, known for its fresh, historically conscious and touching interpretations of musical texts.
The Kyiv Symphony Orchestra will take part in the performance of the opera 'Tristan und Isolde' this autumn, during the opening of the new German festival Musikfestspiele Königswinkel in the Füssen Festival Hall, which is located opposite the picturesque Neuschwanstein Castle.
Vitali Alekseenok
Born in Belarus. He graduated from the University of Music Franz Liszt Weimar, participated in master classes by Bernard HAITINK, Peter STARK, Bruno WEIL and others. In the 2016/18 seasons he collaborated with Oksana LYNIV as a conductor and music assistant at the Bavarian State Opera, the Gran Teatre del Liceu in Barcelona and the Graz Opera. He was a winner of the MDR Conducting Competition in 2018. Vitali has been working with the Abaco-Orchester of the University of Munich as a conductor and artistic director since the 2017/18 season. He will take up the post of the artistic director of Kharkiv Music Fest for the 2021/22 season.
Information provided by the press service of the Kyiv Symphony Orchestra
Co-production of the National Opera of Ukraine and Kyiv Symphony Orchestra
Libretto: Richard Wagner
Soloists:
Tristan – Alexander Schulz
Marke, King of Cornwall – Taras Shtonda
Isolde – Juliana Bavarska
Kurwenal – Alexander Forkushak
Melot – Dmytro Foshchanka
Brangäne – Tetiana Spaska, Alla Pozniak
A shepherd – Oleksandr Voznyiuk
A steersman – Igor Evdokymenko
A young sailor – Dmytro Ivanchenko
Conductor – Vitali Alekseenok
Kyiv Symphony Orchestra
Producer – Anna Stavychenko