Persons
Coryphei
Aniko REKHVIASHVILI
Ballet Art Director (2013 - 2019)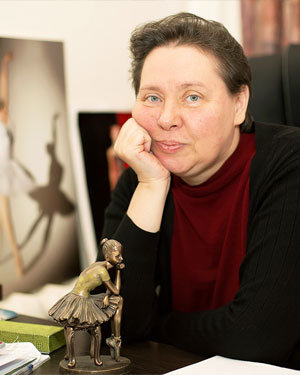 People's Artist of Ukraine.
Aniko Rekhviashvili graduated from the choreography department of the Kyiv Culture Institute (1990) and finished choreography studio course in the P. Virs'kiy State Honored Dance Ensemble of Ukraine (1982). 
She is an organizer, art director and choreographer of the "Aniko ballet" theatre. Since 1996 she has been the head of the contemporary classic choreography department of the National University of Culture and Arts of Ukraine. 
She took part in staging of "Bolero" (music by M. Ravel), "Four Kisses" (music by Y. Sibelius), "Passion" (music by P. Gabriel), "The Four Seasons" (music by A. Vivaldi), "The Italian Album" (music by D. Reverberi), "The Endless Confession" and many more.
Aniko Rekhviashvili is credited for choreography staging for Kyiv drama theatres, films and television shows. While working in the National Opera of Ukraine she staged "Viennese Waltz" (2001, music by Strauss), "Daniela" by M. Tchemberji, ballet sections of "Moysey" by M. Skoryk, "Yaroslav the Wise" by H. Mayboroda, "Norma" by V. Bellini, "Natalka Poltavka" by M. Lysenko, a number of choreography performances and soloist dances. 
She is a laureate of the S. Lifar International contest (3rd place in the choreography nomination). Aniko Rekhviashvili is engaged in educational work and has a professor degree.