Upcoming shows
Beginning: 1.02.2022 - 19:00
Completion: 21:05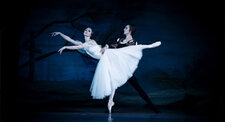 Libretto by T. Gautier, J. Saint-Georges, J. Coralli, based on De l'Allemagne by H. Heine.
Choreography by J. Perraut, J. Coralli, M. Petipa.
Directors who lead the performance:
SUMMARY
Act 1
Count Albert is in love with the peasant girl Giselle. In order not to reveal himself, he wears simple clothes. Giselle thinks he is a peasant.
Giselle has another admirer - the forester Hans. He tries to explain to her that Albert is not who he claims to be, but Giselle does not listen to him.
Left alone, Hans breaks into Albert's hunting house and steals his sword with the count's coat of arms.
The sounds of the horn announce the approach of the hunters. Among them are the bride of the count and her father. The hunters stopped to rest in the village. Bathilde, the count's fiancée, fascinated by the naivety and beauty of Giselle, gives her a gold medallion.
Peasants begin the harvest festival. In the midst of the fun, Hans appears and publicly accuses Albert of lying. As evidence, he shows the count's sword. Giselle does not want to believe this, then Hans blows a horn, and his bride appears before an embarrassed count.
Struck by the unexpected deception, Giselle goes crazy and dies.
Act 2
At midnight, Hans arrives at Giselle's grave. The appearance of the Wilis frightens him. At night, the Wilis rise from the grave. Everyone who appears in the cemetery at this time, they are forced to dance until their death.
Myrtha, the leader of the Wilis, calls the shadow of Giselle from the grave to have her join the dance ring.
Albert comes to the grave. The grief and despair of the count touch Giselle. She forgives him.
Surrounded by the Wilis, Hans runs off. The Wilis again and again make him dance and, while dizzily spinning, push him into the lake.
This fate awaits Albert. With a domineering gesture, Myrtha orders him to dance. Giselle begs Myrtha to let Albert go, but the Wilis are inexorable. And with the first rays of the sun, the Wilis lose their strength. Albert is saved.
Giselle forever says goodbye to her beloved.