Upcoming shows
Beginning: 21.12.2021 - 19:00
Completion: 20:30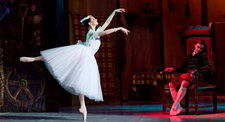 Libretto by Adolphe Nourrit and Filippo Taglioni.
The premiere on the Kyiv stage took place on April 30th, 1981.
Scenographers:
Iryna PRESS
Concertmasters:
Svitlana TERENTIEVA
Directors who lead the performance:
SUMMARY
Act 1
James, the young fiancé of Effie, is napping by the fireplace. A Sylph appears - she easily flutters at James and awakens him with a kiss. James tries to catch the Sylph, but she suddenly disappears. The young man is overwhelmed with thoughts of fantastic visions.
The witch Madge, who came to predict the future for the youths, foretells that James will not marry Effie. The young man drives away the witch. He leaves with bitter anger. During the wedding, the Sylph appears again, but only James sees her. The Sylph snatches the young man's ring and disappears. James, abandoning Effie, runs after her.
Act 2
An enchanted forest. The witch divines, bending over a boiling cauldron. She has a transparent scarf in her hands. The deathly tired James appears - he cannot find the Sylph. And suddenly she is again in front of him. James tries to catch her, but the Sylph is unattainable. The witch offers James the magic scarf with which he can catch the elusive Sylph. James throws the scarf over the Sylph's shoulders, but this is the touch of death for her. Her wings fall, and with them life leaves the Sylph. Her friends carry off the body of the deceased. The disappointed grief of the young man. A wedding procession passed in the distance: Effie, the fiancé of James, had married Gurn...