Upcoming shows
Beginning: 4.02.2022 - 19:00
Completion: 21:30
Sung in Italian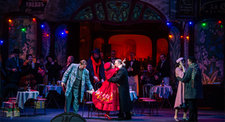 Libretto by Giuseppe Giacosa and Luigi Illica
A joint Italian-Ukrainian art project
in cooperation with
the Embassy of Italy in Ukraine and
the Italian Cultural Institute in Ukraine
General Partner
PRYRODNE DZHERELO™
Exclusive Partner
EDEM RESORT MEDICAL & SPA
Official Sponsors:
PRAVEX BANK
RAFFAELLO
Media Partner: The Ukrainian Week
Project Coordinator:
Nicola Franco Balloni
SUMMARY
Act One
A garret in the Latin Quarter of Paris. The poet Rodolfo and artist Marcello are unsuccessfully trying to work. It's chilly in the room, plus the friends have nothing for dinner. But they take these circumstances with good humor. The fireplace, which long has not seen a fire, is kindled with Rodolfo's voluminous manuscript. The philosopher Colline who is chilled to the marrow appears, followed by the musician Schaunard who has managed to obtain some food, wine, and firewood. Schaunard tells a story about an English lord and a parrot that allowed him to acquire a little money, so suitable on this Christmas Eve. But his friends don't care about Schaunard's stories as they are already in a festive mood. They are not going to spend this holiday with hungry stomachs! The friends, also called in the Latin Quarter "the four musketeers", joyfully play tricks on the landlord who's come to them for the rent. Having gotten rid of him, they leave for the Momus cafe. Rodolfo stays alone as he must finish his article. Someone uncertainly knocks on the door. It is Mimi also lives in the same house. She came to ask for a fire to light her candle. A tender talk starts between the young people. Finally Mimi leaves, but then returns - she has lost the key to her room. Mimi talks of her lonely life. Rodolfo makes Mimi a declaration of love. Mimi answers him. The friends' voices sound over from the street. The happy Mimi and Rodolfo join them.
Act Two
The Latin Quarter on Christmas Eve. A joyous excitement reigns in the streets. Rodolfo and Mimi, Marcello, Schaunard, and Colline merrily take their seats at a table in a cafe. In the swing of the revelry Marcello's girlfriend Musetta appears. She is with her rich admirer Alcindoro. Musetta had left Marcello since she is sick and tired of the bohemian life. But she loves the artist. Marcello turns away from his sweetheart. Musetta is irritated by his behavior, but Alcindoro's presence hinders her. At last a way out is found: she sends Alcindoro away with an invented task and finds herself in Marcello's passionate arms. At this point a servant brings the bill. Schaunard discovers in terror that he has no more money. But Musetta finds a way out here as well: she declares that her friend will pay the bill upon his return.
Act Three
A customs office in a Parisian suburb. A February morning. Mimi came here to get Marcello's advice. She complains of Rodolfo, whose jealousy has made their life unbearable. Mimi's story is interrupted by coughing bouts. Rodolfo wakes up. Mimi hides. In his talk with Marcello, Rodolfo reveals the truth: his sweetheart has tuberculosis. Mimi's sobbing betrays her presence. Left alone with Mimi, Rodolfo tenderly soothes her, but all in vain. Having learned the horrible truth, she insists on their separation. Although their love is too strong, they decide to break up at least until spring. Marcello and Musetta were not happy for a long time either. A quarrel breaks out between them. They break their relations off again.
Act Four
Marcello and Rodolfo are in their studio again, unsuccessfully trying to work. The spring has come. They are remembering their sweethearts. It is cold and uncomfortable in the garret. To somehow appease their hunger and at least slightly warm themselves, the friends start dancing and competing in jest. Musetta's unexpected arrival interrupts their forced revels. She says that she has come with Mimi who has left a rich viscount as she's feeling the inexorable end approach. The friends carefully lead the girl into the room. But they have nothing to feed Mimi and warm her cold hands. Musetta hastens to pawn her earrings, and Colline - his cloak. Mimi and Rodolfo fall into reminiscences about those happy days when they were together. Their friends come back. The doctor should come soon too. In the course of a quiet chat nobody notes that for poor Mimi all earthly joys and sorrows have already ended forever.
Stage Director: Italo Nunziata (Italy)
Conductor: Mykola Diadiura
Set and Costume Designer: Maria Levytska
Chorus Master: Bogdan Plish