Upcoming shows
Beginning: 15.12.2021 - 19:00
Completion: 21:00
Sung in Italian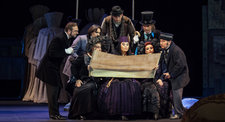 Libretto by Giovacchino Forzano
Іn cooperation with
the Embassy of Italy in Ukraine
the Italian Cultural Institute in Ukraine
General Partner: GOLAW Law Firm
Special Partner: TM «PRYRODNE DZHERELO»
Official Partner: RAFFAELLO
Official Sponsor: PRAVEX-BANK PJSCCB
Artists of the Folk Art Group "Children's Opera"
of the Podolski House of Children's Creativity take part in the performance.
Artistic Director - Natalia Nekhotyaeva.
Italian Language Consultant:
Rossella NATILI
Directors who lead the performance:
The action takes place in Florence in 1299.
The rich uncle Buoso Donati died, and his poor relatives find a will - by which all good Buoso had bequeathed to the monks. And then they call to their aid Gianni Schicchi - a swindler and a rascal.
He hides the body of the deceased uncle, and under his voice as well as that of the deceased dictates a new will to the notary. All the relatives enthusiastically wait: now the will will be rewritten in their favor. From the half-dark bed the notary hears the word "uncle": "All of my property I will bequeath... I will bequeath... I will bequeath to my beloved friend Gianni Schicchi!" The heirs had been fooled, but were forced to remain silent, as exposing their involvement in the forgery would result in severe punishment.
The wealthy Schicchi gives Lauretta a dowry and she can finally marry her beloved - Rinuccio. The lovers are happy.