Upcoming shows
Beginning: 7.06.2019 - 19:00
Completion: 22:15
Sung in French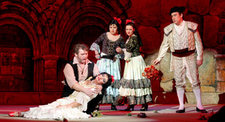 Libretto by H. Meilhac and L. Halevy based on the novel of the same name by Prosper Merimee.
The premiere on the Kyiv stage took place on December 28, 2001.
The boys' choir of the municipal academic male choral chapel named after L. Revutsky participates in the performance.
Choirmaster - Aida Zaitseva, Honored Artist of Ukraine.
SUMMARY
Act 1
A square in Seville. There is a guard post stationed near the tobacco factory. Micaela is looking for her fiancé, sergeant Jose, but he is not yet there.
After the changing of the guard, Jose appears with the soldiers. The tobacco workers come out of the factory during the break. Among them is Carmen, who immediately notices Jose.
Micaela brought her fiancé a letter from his mother. Yet again, Carmen breaks the peace by quarreling with her fellow female workers. Jose must put her in jail. But he violates the order and helps Carmen escape.
Act 2
Carmen is having fun at the tavern of Lillas Pastia with her friends Frasquita and Mercedes. One of the honored guests is the bullfighter Escamillo.
Smugglers gather at the tavern. Carmen is dating Jose. A dispute is brewing between the lovers. At that moment the officer Zuniga appears, who is in love with Carmen. A fierce quarrel erupts between the rivals. Now Jose has only one road left - to the mountains with the smugglers.
Act 3
Scene 1
Carmen has stopped loving Jose - the gap between them is inevitable. And the cards foretell their deaths.
Michaela makes her way among the rocks, hoping to find Jose. There is another shadow emerging in the mountains - at which Jose shoots. It is Escamillo looking for Carmen. A fight ensues between Jose and the bullfighter. Carmen saves Escamillo.
Scene 2
In Seville, people are gathering for the bullfight.
Her girlfriends warn Carmen that Jose is following her. But she is not afraid of meeting with him. Between them, it is over. In a fit of anger, Jose kills Carmen.