Upcoming shows
Beginning: 5.06.2019 - 19:00
Completion: 20:50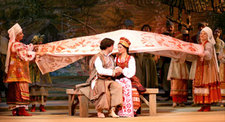 Text by Ivan Kotlyarevsky.
Musical edition by Myroslav Skoryk.
Stage edition by Anatoliy Solovianenko.
The premiere on the Kyiv stage took place on July 5, 2012.
SUMMARY
Act 1
Scene 1
A charming Poltava village on the willow-covered banks of the Vorskla. Here, in a poor hut, lives the widow of Horpin with her daughter Natalka. After the death of her husband and father, they lost all their wealth and were forced to move here from Poltava.
Due to her difficult fate, they called the poor widow Terpiliha.
All the rural guys are withered by the beautiful and sincere heart and character of Natalka, but she loves her Petro, who went off to work, so that once he returns, he can lead the girl down the aisle. However, he has been gone a while.
Natalka sadly thinks of her Petro, swearing to heaven to love her betrothed.
Suddenly, Vozniy appears in front of the girl, who thinks only of himself, because he is not only a nobleman, but also serves in court. Therefore, he believes that not a single girl can resist such a man. What can be said about poor Natalka, who must pray to the Lord that such an important bridegroom appeared before her.
Vozniy confesses his love to Natalka, not forgetting to mention his income. In order not to offend the elderly admirer, the girl for some time pretends that she does not understand his chatter. But Vozniy does not let up. Natalka is forced to firmly refuse him.
Confused and at a loss, Vozniy does not know what to do after such words. The elected Makogonenko, a well-known and admired village figure, comes to the rescue. After listening to Vozniy, he confidently assures him that no misfortune has occurred and that he will help such a respectable gentleman marry the beautiful Natalka. After all, does a girl decide who to marry? Will Natalka go against her mother's will? So he will begin negotiations on the doings regarding the marriage of Natalka to Vozniy with Terpiliha...
Scene 2
As Makogonenko looks into the water, he promises to help his elderly city friend from the district court with his matchmaking.
Once again, Natalka reproaches her mother for exalting every groom. Somewhere is Petro, somewhere is happiness, but poverty drives them from the world. Already in the village they have nothing to live on. Does Natalka not see how hard it is for them to live with their unending poverty? How much can one wait for that Petro, and will he ever return to the village?
The sordid tongue of Makogonenko appears before Natalka and Terpiliha, to convince the poor widow to give Natalka to such a respected person as the urban Vozniy. Behind his back they will be like in God's bosom.
Natalka cannot bear to see her mother's tears and listen to her reproaches. And fate cannot be overpowered. She agrees to the engagement with Vozniy.
Act 2
It is a tough life in the world of the village vagabond Nikolai, who earns a living by random earnings and farm labor.
Suddenly and unexpectedly, Petro comes back to the village, returning from his work. He learns from Nikolai that Terpiliha and Natalka moved from Poltava to this village, and it was just yesterday that Natalka was paired with Vozniy.
Petro is in despair. He begs Nikolai to find out, if it was by her own will that Natalka gave consent to this marriage.
As if Natalka felt something in her heart, she ran out into the street and saw her Petro.
She swears to Petro that she loves only him. And now, as he has returned, he steals the word given to the rich bridegroom under the compulsion of poverty and motherly tears.
Terpiliha and Makogonenko are indignant at such an act from Natalka.
In order not to upset the suffering Terpiliha, Petro agrees to submit to fate and leave the village forever.
Natalka's mother is touched by such an act from Petro. And Vozniy was overtaken by a certain previously unknown feeling. His heart sank, causing him to at least once in his life to do a good deed. If so, then God and the people are on the side of the lovers. Together with all the people who came together in the courtyard of Terpiliha, he sincerely wishes happiness to Natalka and Petro.